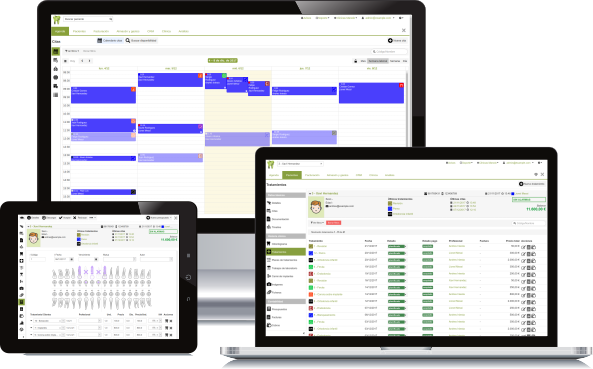 Vevi Agenda
---
Tener una buena agenda, clara, organizada y bien gestionada es uno de los principios básicos de una buena clínica. Con Vevi Agenda tendrás integrada la gestión de pacientes, tratamientos y citas, podrás ver claramente las citas de cada día, de cada semana o mes, por doctor, o por gabinete.
Gestionar citas por paciente, doctor y gabinete
Notificación automática y manual de las citas vía SMS, email o Whatsapp
Manejo y búsqueda ágil de citas urgente
Los pacientes podrán solicitarte citas, desde tu web o desde la web que te regala Vevi
Citas periódicas y con repetición automática
Visualización clara y control de los estados de cada cita y paciente (sala espera, gabinete, etc.)

Puedes utilizar Vevi Agenda de forma compatible con tu programa actual o con el uso de papel o Excel, o por supuesto utilizar Vevi Clinic al completo y beneficiarte de este y el resto de módulos y productos de Vevi.

En caso de que tengas dudas y quieras que te expliquemos en detalle solicita una demostración, estaremos encantados de resolver todas tus dudas y cuestiones.
We are in touch
---
Contact us and one of our agents will advise you on the best way to start working with Vevi Clinic.