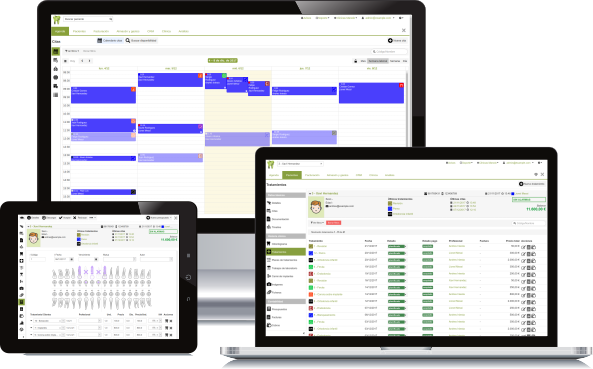 Cloud management of your dental clinic
---
Vevi Clinic is a solution for the agile and comprehensive management of a dental clinic.

You can work from anywhere, from any device, and at any time, and you will no longer need to worry about technical aspects such as installing or updating software, backup copies or other security problems.
Try it for free!
The software that your dental clinic needs
---
It has been developed by experts in security and Web applications, together with professionals from the dental sector, managing to create a powerful platform that takes the organization and management of your dental clinic to the cloud.

We propose that you focus on your daily work, where you can add value and create business, and we take care of the rest. Specifically we will do all the necessary tasks so that when you need to access your data, to give you technical support, to improve and update Vevi Clinic every day, and make our software "just work". With Vevi Clinic you will finally forget about computer science and you can really focus on your work.


Try it for free!
What are our advantages?
A modern software designed for you
---
Without worries
Easily complies with current legislation: data protection, informed consents, prosthesis documentation…
Flexibility
Access your data anytime, from anywhere and with all your devices
Saving
No commitment to stay, pay only for what you use in convenient monthly installments
Data import
Data transfer from your current management program, so you can continue working without any problem
Continuous updates
Vevi Clinic is in constant development, innovating, improving and evolving with the dental sector and with your clinic
Productivity
The management and control of a large company in an agile, simple, intuitive and within reach of any clinic
Security
Your data is always safe and secure, with daily backups and a team of experts at your disposal
Training
With our training sessions and learning pills you will learn how to use Vevi Clinic in the best way and in the shortest time
Help and Support
A personalised, comprehensive and immediate service, provided by professionals who will resolve your doubts and problems instantly
Trust
Thousands of professionals from the dental sector work with us on a daily basis, and they are the best guarantee of our solvency
Is Vevi Clinic what I need?
---
Obviously we will not answer you in another way, but we sincerely believe that it is. Vevi Clinic is much more than a dental clinic management software, it is it is an integral platform that will allow you to manage all aspects of your day to day in a simple and centralized way,giving you the possibility to access from any device, at any time and in any any place. You will not need any other management program. With Vevi Clinic you can control and plan your appointments, manage your treatments and budgets, perform billing and control of collections and balances of patients, manage the store, interact with your suppliers, etc. all in a simple way and from the same place.
You will not only have a management program, but you will also have a team of professionals who will help you at all times. Whether you are currently working with another management program or starting from scratch, we will be always by your side, advising you from the beginning so that you can get the most out of both the software and your clinic. Having advised hundreds of companies in the dental sector in Spain and other countries, Vevi Clinic is a guarantee for you and your business. Contact us and one of our agents will advise you on the best way to start working with Vevi Clinic.
What do we offer you?
Some of the best features
---
Treatments
Know at all times the situation of treatments, appointments, collections, lab work, etc. with our centralized management
Appointment
Manage appointments of your doctors and patients, improving your control and organization with our views and planning options
Income and expenses
Manage your treatments and bills with the flexibility you need, and know at all times the situation of collections of your patients and clinic
Storage
Quickly and easily manage your storage, your orders and expenses, while maintaining the traceability of the lots used in each treatment
Analysis
Know at all times the evolution of the most important parameters of your clinic
CRM
Manage contacts and call alerts to patients, and send marketing campaigns to your patients, notifying them of offers, treatments or upcoming appointments.
We are in touch
---
Contact us and one of our agents will advise you on the best way to start working with Vevi Clinic.